Art. No. 23066REGHE
I bought a few of these modules some time ago, they were used for a short period in holiday homes and replaced by another non KNX solution. Recently I had some time to look at them in detail, configure them with ETS5 and test their functionality.
'Multi' doesn't only tell something about the functionality, the product documentation is 489 pages long and it has more than 100 group objects to assign!
Product info
Possible use cases:
Switching of electrical loads with floating contacts
Switching of electrically-driven blinds, shutters, awnings and similar hangings
Switching of electro thermal drives
Polling of conventional switching or push-button contacts, window contacts etc. in KNX systems, for reporting of states, meter levels, operation of loads, etc.
Polling of external temperature sensors for heating control
Logic functions to control building functions
Mounting on DIN rail according to EN 60715 in distribution boxes
Product characteristics

Actuator functions: switching, blinds, electro thermal drives
Actuator function can be switched in pairs
Integrated push-button interface with 6 inputs
2 integrated room temperature controllers
2 inputs for temperature sensors (ref.-no. FF 7.8)
Outputs can be operated manually, construction site mode
Feedback in manual mode and in bus mode
Scene function
Disabling of individual outputs manually or via bus

Switching function

Max. 6 switching outputs
Operation as NO or NC contacts
Logic operation and forcing function
Feedback function
Central switching function with collective feedback
Time functions: switch-on delay, switch-off delay, staircase lighting timer with pre-warning function

Blinds function

Max. 3 blinds outputs
Suitable for 230 V AC motors
Blind/shutter position directly controllable
Slat position directly controllable
Feedback of movement status, blind/shutter position and slat position
Forced position through higher-level controller
Safety function: rain alarm, frost alarm, 3 independent wind alarms
Sun protection function

Function of valve drives

Max. 2 outputs for electro thermal drives
Switching operation or PWM operation
Actuators with characteristics "normally open" or "normally closed" can be controlled
Emergency operation in case of bus voltage failure for summer and winter
Protection against jamming valves
Forced position
Cyclical monitoring of the input signals can be parameterised

Heating controller

2 internal controllers to control two independent rooms
Control for heating or cooling, optionally with additional level
On-off, PWM or PI control
Predefined heating types (hot water heating, fan coil unit ...) or individual parameters possible

Inputs

6 inputs for push-buttons
Input functions: switching, dimming, blinds control, light scene extension unit, brightness or temperature value transmitter
2 inputs for external temperature sensors

Logic functions
Up to 10 logic operations with up to 8 inputs each, e.g. for AND, OR and XOR operations
Conversion of data point types, e.g. from 1-bit to 8-bit
Comparative operations, e.g. <, >, ≤, ≥
Arithmetic functions, e.g. +, –, *, :
My use case
I have rooms with a central heating radiator and shutters. So I want to control both the heating and the window covers per room, and I want to measure the room temperature.
If window is open, close heating valve, if room temperature is low open valve, if temperature is reached close valve. Control shutters via manual switch and automatically, if strong wind gusts outside open shutter, if window is open don't close shutter, etc.
Later install and connect cheaper non KNX motions sensors, like described here: https://www.jung.de/en/10521/products/new-items-2020/new-products-2020-part-3/motion-detector-mini-basic/
Some ETS5 screenshots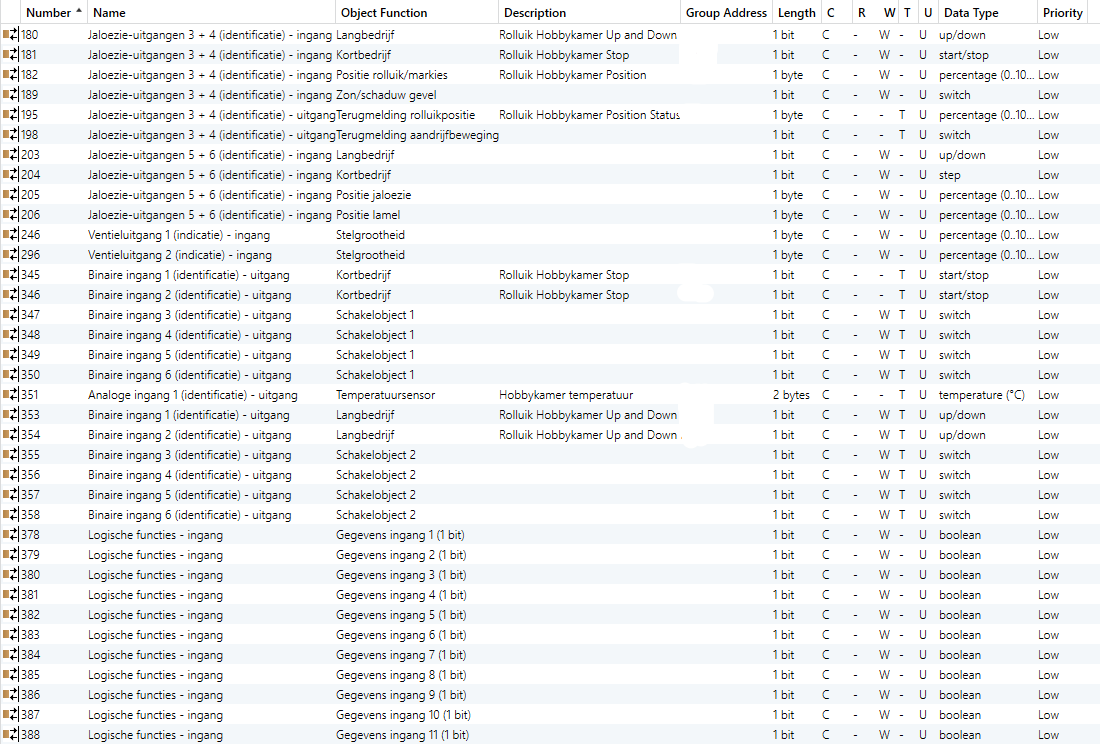 Schematic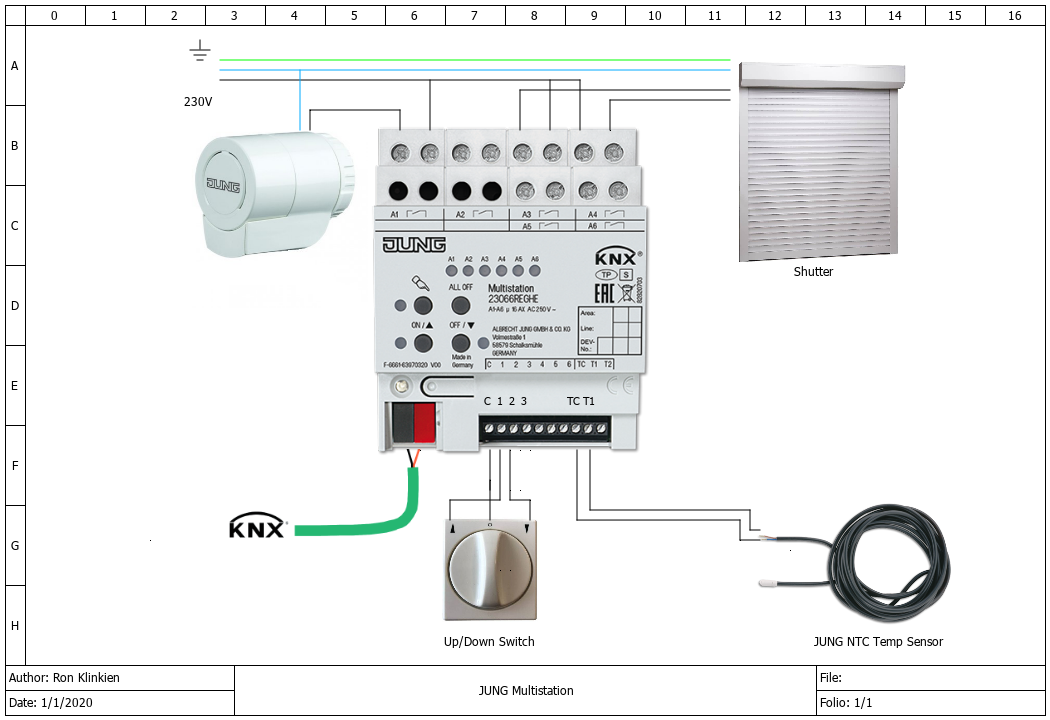 Some resources
Online catalog: JUNG - Multi station Actuators for rail mounting Devices for rail mounting KNX OVERVIEW
Product Information: https://downloads.jung.de/public/en/pdf/productdocumentation/en_23066REGHE_td_21022018.pdf